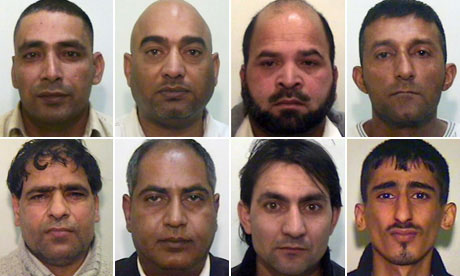 Many Brown Pundits have posted about the stories one reads in the Daily Mail and other British publications about non-white gangs, often Pakistani, who have been accused by many girls of targeting them for sexual exploitation.  Note that this is occurring alongside what I consider a congruent and parallel phenomenon of Muslim Arab rape in Scandinavian countries.  In England, at least, there is some closure as nine men of Pakistani descent were convicted of sexual exploitation (among other charges including trafficking.)  Its probably not just the BNP types who thought the Crown Prosecution Service potentially incapable of successfully prosecuting a politically charged case given that the defendants were all Pakistani and the victims all white.   There is, of course, discontent among some observers of the trial.  Julie Bindell, at The Guardian, says the swarthy visages of the defendants obscures the bigger picture and posits a false causal relationship between ethnicity of perpetrators and the likelihood of filing charges:
 Contrary to what the British National party would have us believe, this is not an epidemic of Pakistani child abusers abusing white girls – it is more that we as a society ignore the voices of those who know best about child abuse: the victims and their advocates…Why are we not hearing more outrage about the fact that thevictim who came forward in this case four years ago was deemed not to be a credible witness by the Crown Prosecution Service? Had she been taken seriously this gang could have been detected and scores of other victims could have been spared. We kid ourselves if we think the CPS would have pushed ahead if her rapists had been white.
Perhaps Julie has not considered that prosecutors all over the world habitually recognize all incentives to act/not act no matter how perverse they may seem to a reasonable person with high moral function.  She continues:
Greater Manchester police apologised to the victims of the recent case, saying that now that they know more about this type of crime they would conduct future investigations differently. And yet those of us who are involved in the attempt to combat child sexual exploitation have known about these men and the way they operate for decades. The victims have told us. Why have they been sidelined once again in favour of a good old ruck about race?
If the cops  interview a victim, and he/she says a brown man was the perp and that there are other victims and perps, surely its not a 'ruck about race' to look for other brown men?  The standard for likelihood should be one that uses occurrence of a particular crime that is adjusted for proportion of ethnicity within a given general population.  Is anybody doing that?  Is that sort of 'race' data collected?