I saw friend Hasan Mujtaba's poem "Taliban", written earlier but now dedicated by him to Malala and wanted to post it on Twitter. Couldnt seem to do it, so I am posting it here and will post this link. But I will expand this to include other poems written for Malala or posted on this occasion by other poets. So all you Urdu poetry fans out there (and other languages..any language), send in your links or poems in the comments. I will move them to the post when i get the chance.
Here is Hasan Mujtaba's poem, TALIBAN
میری وادی میں آدمخور اترے ہیں 
یہ طالب ہیں اندھیروں کے 
سفیران ستم ہیں 
یہ کیڑے آمریت کے کفن کے ہیں 
یہ تاریخی حرامزادے ضیاءالحق کے وارث ہیں 
یہ دہشتگرد شہزادے یہ تاریکی کے پیغمبر 
یہ کہتے ہیں کہ انکے کام سارے غازیانہ ہیں 
حقیقت میں یہ تہذیبوں کے منہ پر تازیانہ ہیں 
شریعت شیخ صاحب! انکی خودکشی بمباری بربریت ہے 
عورت سے انہیں ازلی عداوت ہے 
محبت سے خدائی بیر ہے ان کو 
حجاموں، لختئیوں سے، ٹپوں گیتوں سے، کبھی بدہ سے، کبھی رحمان بابا کی غزل سے یہ الجھتے ہیں 
حسن و فن کفر و شرک ہے ان پر 
میرے بیٹے اور بیٹی کی ننگی پشت پر یہ فتاوای عالمگیری تحریر کرتے ہیں 
کسی کا سر کسی کا دست و بازو کاٹ دیتے ہیں 
کسی مسجد، کسی مندر، کسی گرجا، کسی اسکول ، کسی گھر کو اڑاتے ہیں 
خدا کے نام پر دھرتی کو دوزخ میں بدلتے ہیں 
یہ دین ملا و فساد فی سبیل اللہ 
نظام عدل انکا غاصبانہ ہے 
انکا دین چنگیزی ہلاکو ہٹلری اور خمینی 
جہادی جہنمی ہیں 
یہ طالباں ہیں غیر انساں ہیں ۔
Fehmida Riaz has written a powerful short poem in response to the shooting:
ہم اسے مل کر سلا دیں گے
ملالہ کے لیے ہم سرخ چادر لے کر آۓ ہیں
بہت پیاری یہ بچی ہے اسے انعام دیں گے
ہم گلے میں سرخ مالا اس کو پہنائیں گے
خوش ہو کر وه اس کم سن کے عزم وجزم کا دم روز بھرتا ہے
ہمارا شہر ا کی زندگی پر فخر کرتا ہے
ہمارے ہاتھ اس کو نرم بستر پر لٹا دیں گے
وه شاید تھک گئی ہے
ہم اسے مل کر سلا دیں گے
(فہمیده ریاض)
Got to run, but you get the idea…send in more.
She is (thankfully) alive and I hope she fully recovers, but Faraz was still prescient:
kal ka sooraj haSHr dar-aaGHoSh niklay gaa faraaz
CHaand jaesee sooratayN eeNdhan banaa dee jaayeN gee
Here is a Pashto poem from Rahmat Shah Sael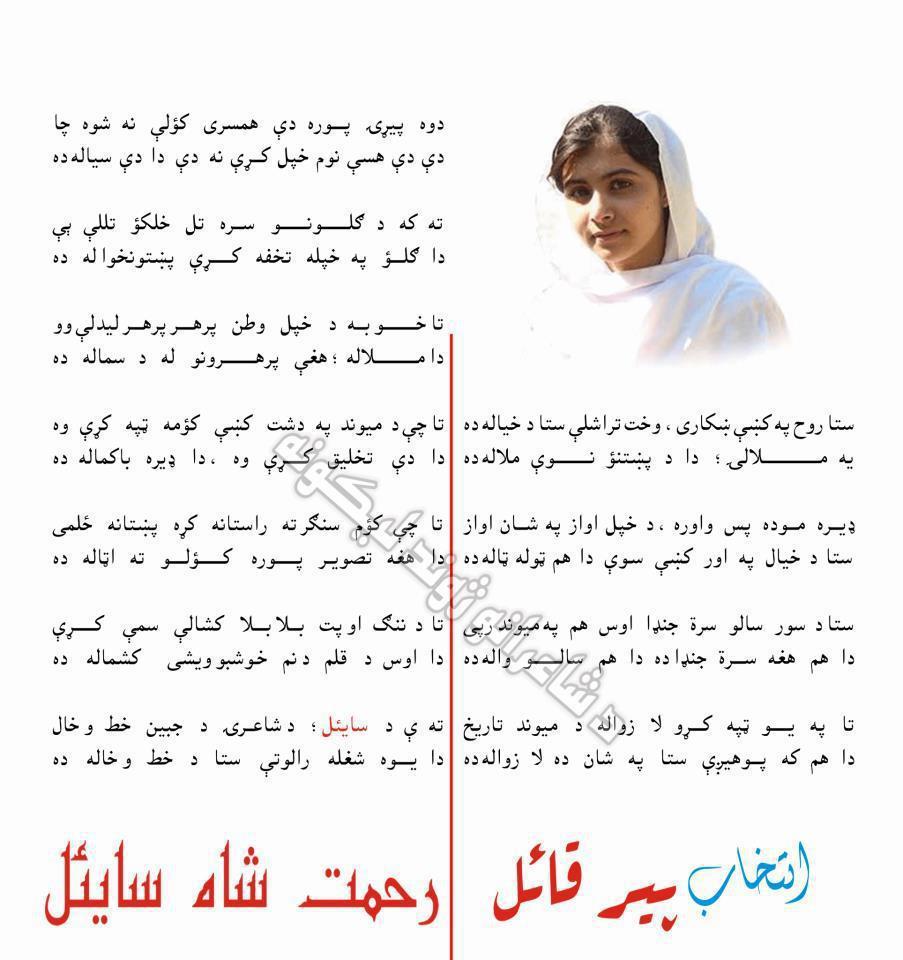 Jaun Elya's Shehr Ashob is a good description of the situation: