Pakistan has (once again, for the nth time) arrested Hafiz Saeed . This time the charge is "terror financing". It should be clear to anyone who bothers to read a few newspapers that he was not hiding anywhere and did not need to be "found". He has always lived and worked openly in Pakistan and this is not the first time he has been arrested (and may not be the first time he is let go after the dust settles and the IMF funds arrive). It is also worth noting that the charges have nothing to do with the Mumbai attacks and that the current military regime in Pakistan will not even admit that those attacks came from Pakistan. In fact their vast PR apparatus has successfully convinced many educated Pakistanis that the whole thing was an Indian (or Israeli) false flag operation and the attackers did not even come from Pakistan. While this is not the official stance of the government of Pakistan (which actually investigated the attackers to some extent under international pressure, and produced detailed evidence linking the attackers to Pakistan, including details such as where the boat was purchased and such like, and several people have been in jail at some point for their involvement in this attack), the domestic propaganda and management of witnesses etc  has been so effective that I regularly get whatsapp messages from friends "accusing" some Pakistani journalist or TV station of being Indian agents because they have said at some point that the sole surviving terrorist (Ajmal Kasab) was a Pakistani. As an aside, it would be interesting if someone can ask a senior member of the current military regime to publicly state on record that Ajmal Kasab was Pakistani. I doubt that anyone (except maybe Trump) can actually do this (i.e. I doubt that any senior official can come on TV and admit this.. it would be too far at variance with the domestic propaganda that ISPR has put out).
In 2014 Hafiz Saeed actually held a conference of his (renamed) Jihadi organization at the "minar e Pakistan" (Pakistan memorial) in Lahore and rode around on a horse to feel close to the spirit of the original Arab conquerors he idealizes.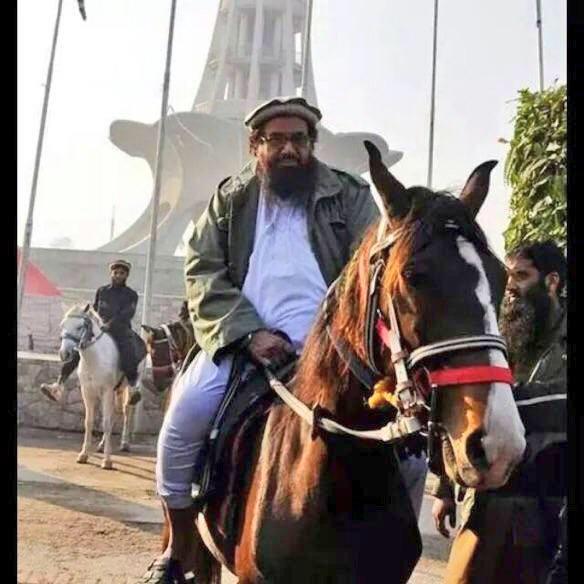 So anyway, everyone knew where Hafiz Saeed was, and even this latest arrest does not mention the Mumbai attacks, so either Trump is remarkably ignorant (possible) or he is just playing to his base, who love the whole "Western" movie ethos of wanted posters, dead or alive, manhunt, etc and finally, Sheriff Trump riding to capture the "bad guys".  I find it hard to believe that even Trump can be ignorant enough to not know all this, so I vote for "bullshitting his base" as the most likely explanation for this tweet.
But while all this may be just show to get Pakistan off the FATF hook and to get some much needed cash (and maybe even weapons) from Trump, it is still hard to say who is conning who here. At one level Pakistan has "successfully" conned the US for 17 years and received billions in aid while supporting the Taliban and hosting multiple other Jihadi organizations. But it is hard to see this as a "win" for Pakistan. While Pakistan's military regime (and this issue has ALWAYS been handled by the army, no civilian was allowed to butt in.. Mian Nawaz Sharif lost power for trying to minimally rein in this policy) has played these games and thinks it is winning, it has actually presided over Pakistan falling steadily behind India and even Bangladesh in every economic and social indicator. It would have been much better to swallow the bitter pill in 2001 and actually switch sides and give up on Jihad. By now Pakistan would be outperforming rickety India and even "rising star" Bangladesh in many areas. Instead, we have wasted a generation trying to play these games and may not have anything to show for it if this round of show arrests does not even get us off the FATF grey list (or worse, gets us on the blacklist).
Indians are (unsurprisingly) not delighted with this latest show of successful Pakistani conmanship (or even genuine change of heart), but in the proverbial long run, who gets the last laugh? India, a rising economic power in the world, or Pakistan, playing strategic games with multiple sponsors and just staying half a shaky step ahead of its multiple creditors?