I was pondering over this last evening since the rate of Westernisation in India is somewhat mind-boggling. Alia Bhatt's dress to the filmfare awards is what any Hollywood siren would happily wear.  I can't imagine a Pakistani actress wearing that in the next decade, for better or for worse.
I know it sounds hideously hypocritical but at the same time I don't know how much would I want the Turanic triangle (AfPak+Iran) to really transform in a cultural space. While I would like to see Islam's reform I wouldn't want to see the base cultures become Western.
I also do not think that IndoPak will ever be a thing again; Pakistan is sailing out of South Asia and Indians have let them do so. It's a mistake since our natural ties are within the geographic range but it's not something I especially care about. If the Brits were able to shatter South Asia so easily perhaps it was never a real construct..
Considering that the West is becoming more pagan and spiritual and India is becoming more Abrahamic (Hindutva is like the Bhakti movement, the Abrahamification of Hinduism).
I notice that Westerners now hold India to the same standards and don't treat it as some "exotic" part of the world.
Contrast this to the Jewish-American travelloger, Drew Binksy:
He was the same chap who called China and India chaotic and his analogy of India to the EU was interesting..
https://www.facebook.com/drewbinsky/videos/vb.549723325064601/591352561276799/?type=2&theater
North vs. South INDIA… Two Different Worlds
On my last trip to India, I visited only the North and that's what I thought all of India was like. 
This trip, I did only the South and it's completely opposite from the North in every way imaginable!
The best way to think about India is like Europe. When you move from one Indian state to the next — the culture, cuisine, language and weather all change in the same way that you'd experience by hopping European countries.
This is just idle speculation but an interesting contrast in how different Pakistanis and Indians think. I have two good friends, one is Indian and the other is Pakistani (we all know each other).
Both had dinners last night but I was invited to the Pakistani one and not the Indian one (I didn't go to either but the gym!). I told Vidhi that this was a reflection of the Pakistani generosity and extroversion.
As an aside it's an old trope in Pakistan that we "Muslims" are more generous, glamorous and sociable than them "Hindus"; so much of Pakistani identity is built on comparison to India, what we are and what they are not it's rather funny.
Vidhi pointed out that actually I was misinterpreting it entirely. That in fact it was a sign of respect that I wasn't invited to a random get-together but that my time was being respected.
I had never considered that perspective in all my life. I've noticed that through my marriage to Vidhi; it ends up that I have the Eastern/traditional perspectives.
Pakistan & Iran will be very Eastern cultures because Islam will inhibit wholesale transformation (Tehran may have wild parties but it obscures the rest of the country).
https://twitter.com/ASJBaloch/status/1109611259597602817?s=20
I don't know if that's a good thing or bad thing but in the coming generations the Turanic triangle will be this immensely exotic space, thanks in part to Islam, whereas India will be fairly familiar since Macaulay's children will glide between both worlds and perhaps even connect them.
For some reason the Japanese haven't become "white" as they have become Western but in many ways whiteness transcends race. It's co-terminous with the West and Western identification.
If I had to speculate in a couple of generations the "brown" minorities in the West will remain predominantly Muslim. We could be in the middle of a discrete Northern vs. Southern bloc (SinoIslam & Aframs). The profound victimhood of African Americans seems to be THE original sin of the United States (it's strange that Native Americans don't be a central issue since it seems there aren't as many and they overlap with white society to a much greater extent) which will fuel these fissures.
I first saw the picture of PM Arden in a hijab on a friend's insta-story. I thought she was some especially fair & rather attractive Aunty/cousin of his (he's a Punjabi Khan from Karachi, so might even be Pathan). I didn't code her as white until clocking that this was the PM when it started cropping up in social media much later.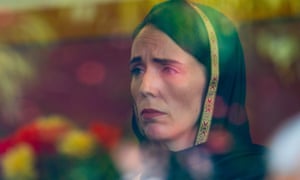 Whiteness is a state of mind as much as it is a colour.
Related: Pakistan in Pieces, Part 1